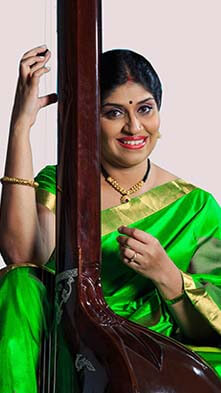 Gauri Pathare is a name to reckon with amongst the present generation of Indian Classical Music. Having initially trained under the guidance of Pt. Gangadharbuwa Pimpalkhare of kirana gharana, Gauri has had the good fortune of imbibing musical knowledge from Late Pt. Jitendra Abhisheki & Pandita Padmatai Talwalkar for several years . Since 2010 Gauri has been receiving Jaipur gharana training under Pt. Arun Dravid. This wonderful opportunity of training under different Gurus has left an indelible mark on Gauri's gayaki. She has skilfully picked the nuances of the 3 gharanas, viz. Jaipur, Gwalior & Kirana. Her various accolades include being awarded the prestigious Smt. Kesarbai Kerkar scholarship conferred by the NCPA in 2000-2001 . Gauri received the Surmani Puraskar in 2006 and the Pt. Ramkrishnabuwa Vaze Yuwa Gayak Puraskar in 2007, amongst many others awards. The most coveted "swara-bhaskar" puraskaar instituted in the memory of late Pandit Bhimsen Joshi for the year 2012-13 was awarded to Smt. Gauri Pathare . Gauri was also conferred the equally prestigious Aditya Vikram Birla "Kala Kiran Puraskar" for the year 2013.

Gauri has performed at most of the prestigious classical music festivals in India including Sawai Gandharva Mahotsav , Tansen festival, Chandigadh sangeet Sammelan , Kesarbai Kerkar Sammelan , Pt. Kumar Gandharva sangeet Sammelan, etc. Gauri Pathare also hosts an annual Indian classical music festival in mumbai called Parle Swar Vasant in month of February, click here for details.

Gauri has frequently performed at UK, France, Switzerland ,USA, Australia, Canada, Dubai, Singapore and many other countries.

Universal records , Mystica music co. and many more companies have released Gauri's audio CDs and her album 'Tribute' was nominated for GIMA awards.

Gauri's music has the influence of 3 gharanas. An innovative artiste, Gauri chose to study the intricacies of Jaipur gharana gayaki as well.

Gauri has successfully blended jaipur, Gwalior and kirana gharanas gayaki to form her unique style of khayal presentation.Retaining emotional quotient of each raag while blending the gayaki is what Gauri believes in.

For Gauri Pathare's official YouTube channel Click Here...